Web Site Awards
---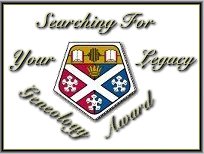 ---
Shiflet Family Genealogy Website
© Copyright for the pages and the information contained on the Shiflet Family Genealogy Web Site lies with the submitter(s) named on each page or if no submitter is named, the webmaster. You may freely print and replicate these pages for your own private genealogical use, or the genealogical use of your family.

Permission to reprint or reuse any material contained on these pages, including but not limited to: text, graphics, backgrounds, photos, and all other items, must be obtained from the submitter or webmaster; reprinting includes replication of this material on other web pages, any listservers, disks, cd roms, newsgroups, genealogical compilations (printed and non-printed) and all forms of printed matter. Commercial use of any kind is strictly and expressly prohibited.




This page is part of the
Shiflett Family Genealogy Website
and is maintained by:
Robert Klein /Pasadena MD /
bobklein99@comcast.net
Webmaster: Julia Crosswell / Fort Worth, TX / 1998 - 2006
Webmaster: Robert Klein, Pasadena, MD / March 2008 - present